Sire: CH. Regency Beau Brummel
Dam: Rainbows And Unicorns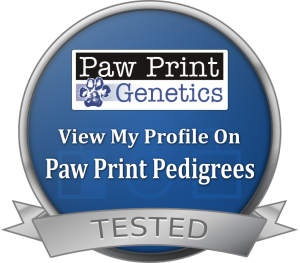 Eyes Cerf – normal
Neonatal Encephalopathy – clear Paw Prints Genetics
Degenerative Myelopathy – clear Paw Print Genetics
von Willebrand Type 1 & Type 2 – clear Paw Print Genetics
Gangliosidosis – clear Paw Print Genetics
Osteochondrodysplasia – clear Paw Print Genetics
​Progressive Retinal Atrophy – clear Paw Print Genetics
Diversity Testing: IR .14 / OI .47/ GR -.14; 1003/2001, 1169/2014
Penn Hip results: Distraction lndex (Dl): Right Dl = 0.38, Left Dl = 0.38.
Osteoarthritis (OA): No radiographic evidence of OA for either hip.
Cavitation/Other Findings: No cavitation present.
Thank you so much to Faith's breeder: Wendy Britt and to Ann Conrad for allowing Faith to be a part of our family.
Pedigree
Grand CH. Providential's Faith N'Co.
CH. Regency Beau Brummel
Safaris Lambchop
Wildwinds Hershey Bar
Rocking Y's Apache
Cocoa Kahula Delight
Orion's Chocolate Delight
Kahula Simberty Additude
Rainbows And Unicorns
Tip E Toe Boudreaux
King's Kid's Best Mime In Town
Jadewood's Wild Irish Rose
Haezel B Huff N Puff
Juno James night
Rosilier's Sweet Annie